Disk Settings¶
To view or change disk related settings simply long-press (or right-click on macOS) the disk and select Settings.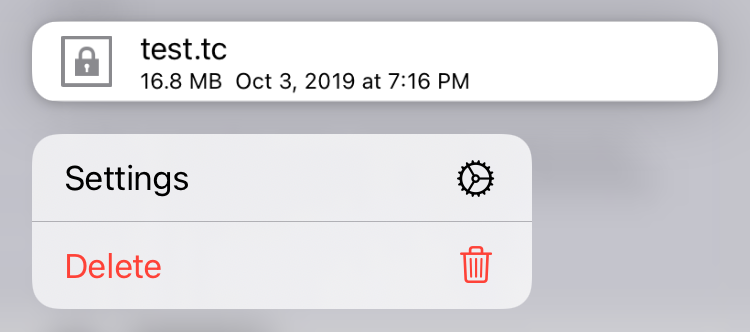 You can also swipe the disk gently to the left to reveal the Settings option.
Name¶
The display name of the disk in the disks list. You can easily change the name by tapping it and entering the new name.
URL¶
For remote disks, the URL to the remote disk is shown. For HTTP/HTTPS remote disks you can also edit the URL by tapping it.
Show thumbnails in list¶
By default, Disk Decipher displays the content of a directory as a list (detailed). Optionally, you can switch to the tiled view. In tiled view thumbnails will be shown for supported filetypes as that is the main purpose of the tiled view.
From version 3.20.3, Disk Decipher will also show small thumbnails instead of icons in list view, by default only for Local and Linked disks. By using this option, you can control this behaviour per disk, including enabling it for Remote disks.
Trusted certificate¶
After trusting a server certificate the trusted certificate will be visible here for you to review.

To remove the trust, just tap the certificate. The certificate details will be shown with a Distrust button.
Launch URL¶
The launch URL can be used to start the Disk Decipher app and immediately mount the disk, saving the need to select the disk from the Disks list.

Simply tap the launch URL to copy it to the pasteboard and paste it at the location where you want to use it.
The launch URL supports supplying a path (using the familiar URL syntax) to be opened immediately after mounting the disk. For instance, to open the file "Test Image.png" inside the folder "Test Folder", you would use a launch URL like
disk-decipher://your-disk-guid-here/Test%20Folder/Test%20Image.png
Note that special characters need to be URL encoded (in the example above, the space characters have been replaced by %20).
Backup / Share¶
Local disks support two more options: Backup and Share. Both options are described in detail on the Local Disk page.
Delete saved credentials¶
When you mount a disk, you have the option to save the password to the keychain. After doing that, an option will appear in the settings of the disk to delete the saved credentials from the keychain

This is especially useful if you also enabled the "Skip mount options" option, since in that case you will not be able to disable the "Save password" option on mounting the disk.